Note: Model building item
Realistic Scenery Design!
Foliage is an essential product for creating high-quality model landscapes and is used in several areas. Using foliage, soils appear in more natural colours and realistic structures; riverbanks and forest edges have an effect of natural vegetation; bushes and trees are enhanced by the foliage volume, so appear more realistic.
In order to satisfy the various applications, we have developed four different foliages.
Classic Foliage: The »classic« Foliage is equipped with a fine, naturally coloured flock. It is ideally suited for decorating ground cover, lichen and base vegetation. We recommend applying the foliage in order to make unnaturally consistent green areas more realistic.
Wild Grass Foliage: Wild Grass Foliage is made by electrostatic flocking, combining different grasses and flocks. It is the ideal product for creating realistic pastures on forest edges, natural meadows as well as on riverbanks or lakes.
Meadow Foliage: The Meadow Foliage is also created by electrostatic flocking. In contrast to the Wild Grass Foliage, shorter grass fibres are used. The Meadow Foliage is applied in all areas, as for example for meadows, pastures and agricultural land.
Leafy Foliage: Leafy Foliage is exquisitely recreated by the flocking of the unique finely cut NOCH leaves. This article is particularly useful when flocking bushes and trees, as well as modelling small bushes and ground cover.
Product Highlights:
Razor-thin and highly flexible substrate: It's possible to use the foliage on bumpy surfaces or rip it into small pieces to apply it exactly.
Permanently flexible adhesive: For this flocking we use a permanently flexible glue which ensures the flexibility of the foliage.
High-quality flocking: The foliage is flocked with up to five different materials, in conjunction with electrostatic flocking. This guarantees the natural appearance of NOCH Foliage.
EAN:
4007246072705
Width:
230 mm
Length:
200 mm
Weight:
0.07 kg
Gauge:

H0

, TT

, N

, Z

, 0

, 1

, G

, H0m

, H0e

Scale:

1:22,5

, 1:35

, 1:43 (0)

, 1:45

, 1:50

, 1:72

, 1:87 (H0)

, 1:100

, 1:120 (TT)

, 1:144

, 1:160

, 1:200

, 1:220 (Z)

, 1:225

Type:

Foliage

Color:

Green Tones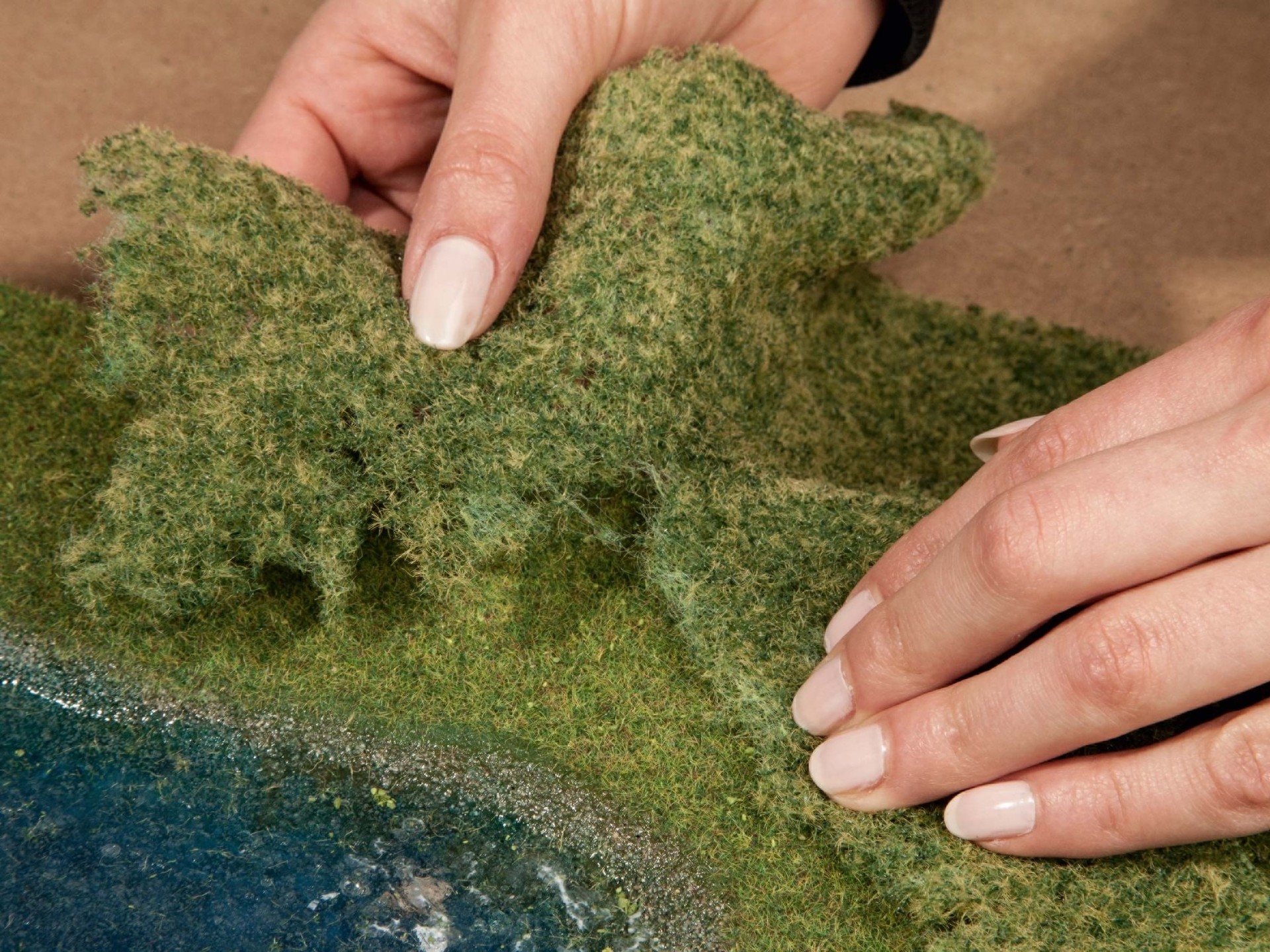 To start off, the size of the Foliage sheets is adjusted. To do this, you simply split them into the desired dimensions by hand. In the second step, the Foliage sheets are shaped. Due to the highly flexible backing material, the Foliage sheets can be stretched without any problems. The Foliage sheets can now be integrated into the model landscape. To do so, it's best to secure them to the desired spot with NOCH Landscaping Glue.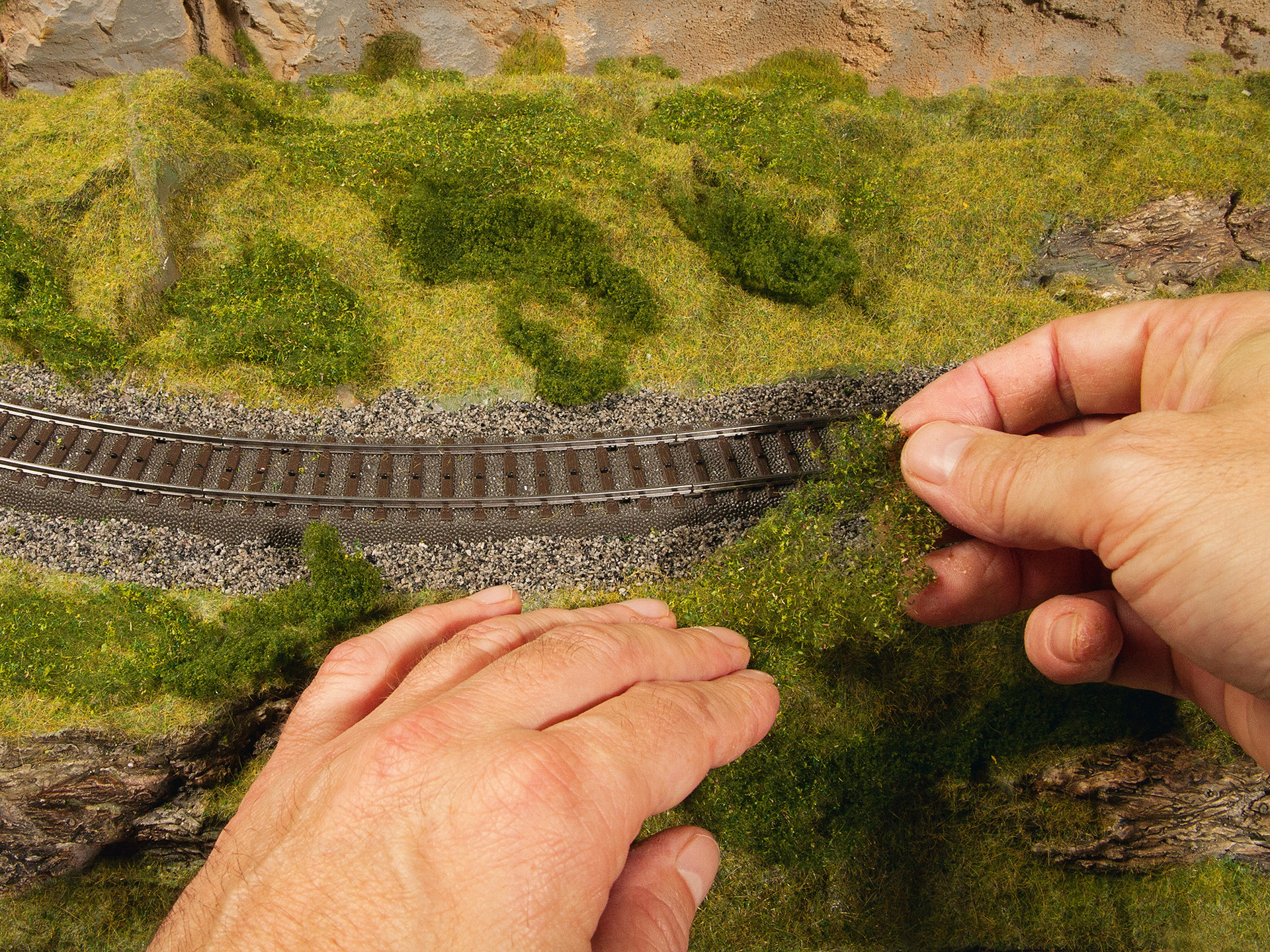 To create the perfect railway track environment, it's best to take it step by step.
Start with our Foliage. With it, you can design groundcover, weeds and vegetation along the railway embankment.
Grass Tufts are then glued on as the taller shrubs on the second level.
Now only bushes and small trees are missing. You can create these easily with seafoam, Grass Tufts and Structured Flock.


€8.49*
Content:
0.05 qm
(€169.80* / 1 qm)
Backlog, is currently in production
Order also: matching accessories
You might also like these items